Photo credit Xialo Wy

Saiko Shihan Goshi Yamaguchi
President and Chief Instructor IKGA.
No one is more adept at portraying the powerful beauty of Goju-Ryu karate than Saiko Shihan Goshi Yamaguchi.
President: International Karate-Do Goju-Kai Association.
Born in Manchuria in 1942, Yamaguchi Shihan, the third son of the world-renowned Grand Master Gogen Yamaguchi started training at the age of eight. Without doubt the training was severe for the youngest son with both elder brothers already well advanced in their training. By the age of twenty Goshi Yamaguchi had achieved his Sandan and instructor's license.
In 1964 he took leave of his University studies and went to San Francisco where his elder brother was instructing. He returned to Tokyo in 1966 and after majoring in 1969 Yamaguchi became the full-time instructor at the hombu dojo in Tokyo. He continued to excel becoming a World Karate Federation referee and kata judge. He traveled overseas on behalf of the Japan Karate Federation conducting seminars on kata and kumite.
After the passing of his famous father in 1989, Goshi Yamaguchi was appointed President of All Japan Karate-Do Goju-Kai Association and the International Karate-do Goju-Kai Association. He has tirelessly traveled the world teaching Goju-Kai Karate to the 200,000 plus members in over fifty countries affiliated with the International Karate-Do Goju-Kai Association.
Notwithstanding his incredible physical skills in his dissertation on jiyu kumite he reveals his philosophy integral in following the true martial arts path to enlightenment.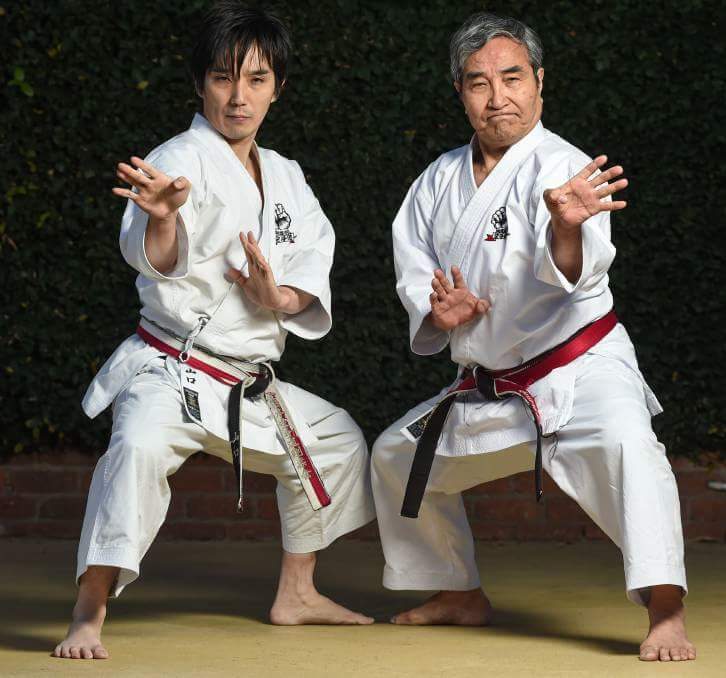 Saiko Shihan and his son Gohei Shihan