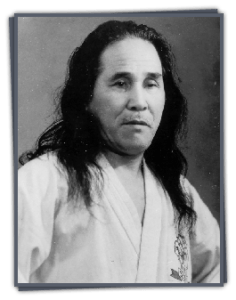 Jitsumi Gōgen Yamaguchi (山口剛玄; January 20, 1909 – May 20, 1989), also known as Gōgen Yamaguchi, was a Japanese martial artist and student of Gōjū-ryū Karate under Chōjun Miyagi. He was one of the most well-known karate-dō masters from Japan and he founded the International Karate-dō Gōjū Kai Association.
Prior to his death, Yamaguchi was decorated by the Emperor of Japan in 1968 with the Ranjū-Hōshō, the Blue Ribbon Medal of the fifth order of merit, for his enormous contribution to the spread worldwide of the Japanese martial arts. For many years he was listed in the Guinness Book of Records regarding his rank and achievements. According to an obituary:
"His name was a household word in Karate circles, and he appeared in all the major Martial Arts magazines and publications, both in Japan and the western world."
Gōgen Yamaguchi's contributions to Gōjū-ryū karate-dō and to karate-dō in general have been enormous. Under his leadership and guidance the International Karate-dō Gōjū-kai Association (I.K.G.A) has developed and thrived. The organization has increased in popularity both in Japan and other Asian and Western countries throughout the world. By 2008 there were approximately 60-70 countries teaching the Gōjū-kai karate-dō principles and training methods. Gōgen Yamaguchi succeeded in unifying all the karate schools in Japan into a single union which resulted in the formation of The Federation of All Japan Karate-dō Organization (F.A.J.K.O.) in 1964. The Kokusai Budō Renmei – (The International Martial Arts Federation) in Japan, whose chairman was Prince Higashikuni of the Japanese Imperial Family appointed Yamaguchi as a Shihan – master of that organisation's karate-dō division. Yamaguchi added to the Gōjū system the Taikyoku kata forms, – training methods for the beginner students to prepare them for the more advanced kata.
"It has been argued that 'never before has a single man had such profound effect on the development and propagation of karate-dō'." (De Jong, Ingo, 1989). Goju-Kai Karate-do Hard and Soft in Harmony